- I can't believe Christmas is in a week! Holy moly!
- Ben has been filming a music video with Painted Grey this weekend. Pair that with him recording last weekend, studying for finals, and me working, I haven't had a day with him in well over a week. I miss my husband.
- I am in love with cute mugs. Anthropologie has the best ones, take these for example: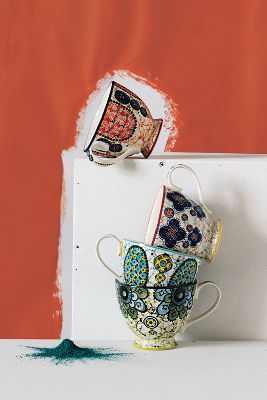 so sweet! I think every girl needs her own mug, and Anthro is always the perfect place to pick up a cute gift.
- My living room currently looks like this:
I love Christmastime!
- I have one more gift to get Ben and I am up this early so I can hit Target and Bridgeport as soon as they open. I do not want to wade through all the crazies this afternoon!
- We had PICU orientation classes all week. It was so good to take a break from working and just focus on what we actually do. We had some time to talk about our more difficult experiences and work through a little of the pain associated with them. I felt so supported and encouraged. I really love my new job. I feel honored to "walk with people during their darkest days" It's a blessing.
- I'm running (/walking) a 5K in 12 days.
- Bridger is being a pill. Yesterday he pulled everything out of my work bag and scattered it around the living room. That is his way of throwing a fit and letting us know that he needs some exercise. That boy is too smart for his own good.
- I've had Pandora on Christmas music non-stop since yesterday. As long as I'm home, it will be playing.
- Our landlord replaced our oven yesterday. I can finally bake!
- The other night we were at a Christmas party and our good friends brought their little baby (cutest thing EVER). I wasn't going to ask for her, since both grandmas were there and I can be a baby hog, but somehow I got her and she proceeded to fall asleep in my arms (I've got the hip sway and back-pat down!) so I had to keep her all night. Every time someone would come up to test the waters for holding her, my response was "Oh, shh, she's sleeping." And everyone knows, you should not wake a sleeping babe. So, Auntie Stephanie got to hold the little love-bug all night. Did my heart (and biceps) good!
- I have presents to wrap and a last-minute gift to get, so I'm off. Happy Sunday!